Counter Display Units
Do you want to increase the sales turnover of small items in your store? A good way to do this would be to use counter display units. The units are ideally designed to hold small fast moving items that a customer can easily grab. They are usually at eye-level, making the products more visible to your customers. For optimum visibility, the counter display units are placed at the checkout stations. Customers will spend a lot of time here so they are likely to see the product on display. They can also be placed on shelves in aisles, where customers are allowed to walk through in your retail store.
There is a wide range of counter display units available. These include cardboard display trays, boxes, and even pallet boxes. Each is designed to carry a specific item. You can get one with holes to hold small snacks like candy and chocolate bars. Or you could buy one with pockets to hold fliers and cards. The display units are cheap and lightweight. They are able to hold a lot of items, hence saving on space. It is easy to make a beautiful arrangement of your products with these units, attract clients and promote impulse buying.
We understand that shipping and displaying small items can be a difficult task. This is why we aim to make the experience easy for you. At your request we assemble the units, insert the product and ship it straight to your store. The products will be ready for sale when they arrive. Our staff will be able to customize the unit according to your needs.
Our display items are the preferred choice for prime locations because they are bright and attractive. We use high impact print and bright colors to effectively capture your customer's attention. Our cardboard material is easy to recycle. It is also durable, and can therefore serve you for a long time. The units can also be customized to meet the various demands from our clients.
Small, but powerful.
Don't judge this option on its size. You can expand your reach in-store with its placement flexibility.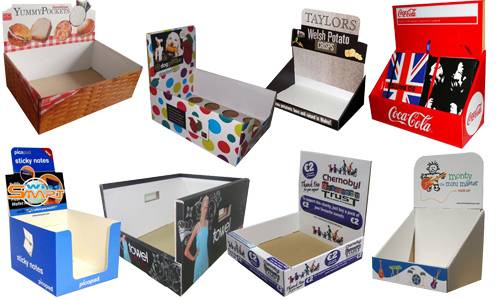 Countertop Displays on a Budget
It is cheaper to buy display items directly from manufacturers like us. Our friendly staff will inform you on how you can keep your costs down and still get a high quality product. They are also able to help you choose the best designs, based on your product types. We will listen to your ideas and customize the units to suit your needs. Contact us today to request for designs and make a purchase.
Are you looking for Counter Display Stands for your Business?

---
Browse our Cardboard Display Boxes collection below…