Floor Standing Displays
A good way to display your products in retail is by using floor standing point of sale displays. These displays can be placed at the end of rows. They can also be placed away from the wall so that customers have a chance to view products from all sides of the display. When placed away from the wall, it is known as a free-standing display. Floor standing displays are also useful in exhibitions. They are a sure way of bringing your exhibition to life.
Display stands are an absolute necessity in any store or exhibition. These stands save you a lot of space. Shelves can be stacked at eye-level, floor-level and even at middle –level. This multilevel arrangement allows you to display more products.
An aesthetically pleasing attractive display that is also well-arranged draws customers. Ultimately, the brand will be known to your clients. In retail, floor display stands improve the overall sales turnover because the products are at clients reach and are also visible.
Custom Cardboard FSDUs
It's not enough to have a floor standing display. It should be customized to suit the style and needs of your products and store. The easiest way to customize your exhibition or display is to use custom cardboard floor standing display units or free standing ones. Cardboards floor displays are easy to distribute and assemble. This option allows you to play with your imagination and come up with a style that suits you. There are plenty of options to choose from when customizing your cardboard floor displays. For example, if your products come in boxes, you can use cardboard shelving in your display.
For products that are small and are easily pulled out like magazines, DVDs and CDs, you can use cardboard to make pockets. For showcasing products in an aesthetically pleasing way, cardboards can be used to make several tiers of podiums. This display is particularly useful for cosmetics, jewelry and phones. If you are retailing fast moving items, floor stands or dump bins are a must in your store. They are useful for irregularly shaped items that cannot settle on shelves easily. Use cardboard dump bins to display discounted items, and any other product that you want to move fast. You can even use them for newspapers or charity donations. They can also be used for dropping recyclables. Use a free standing one and place at entrances and exits for maximum visibility.
Floor Standing POS Displays, Custom Cardboard FSDUs, Cardboard Floor Displays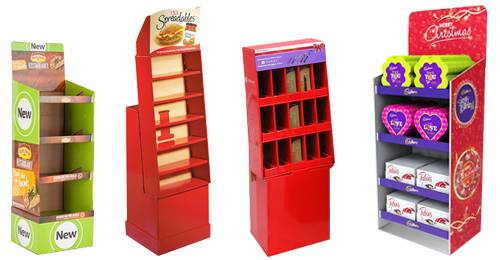 POS Retail Cardboard Floor Stand Display Solutions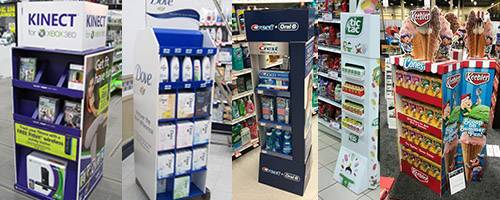 Order Cardboard Floor Displays
The best way to cut down costs when buying your floor display stand units is to buy directly from a manufacturer like us. Not only is it cheaper, but we also customize the stand to suit your preferences. We will also give you the variety of cheaper options so that you get a good quality stand that is within your budget range. Whether you want a floor standing cardboard display unit, a free-standing one, a display cardboard dump bin, we've got you covered. Contact our friendly sales team to discuss your wishes and regain control over how your product is displayed and merchandised in store.
Are you looking for Free Standing Display Units for your Business?

---
Browse our Cardboard POS Floor Displays collection below…