POS Retail Counter Speaker Display
Stylish product displays are an essential requirement in the promotion of your retail merchandise. The displays help in attracting consumers to your products, and enhance sales. Acrylic display units are one type of ideal structures for countertop displays that give your shoppers an appealing site of products at the points of sale or purchase (POS / POP). There are numerous brands of speakers in the retail market, and for your speaker merchandise to stand out from the competition, you need to strategically position it at the POS/POP using attention-grabbing acrylic counter speaker displays.
POPAI Global proudly offers a wide array of acrylic counter speaker display stands, which are innovatively designed to protect your speakers and display them appealingly. Our acrylic counter speaker display units are designed to suit the display of different types of speakers. Therefore, whether you are retailing headphones, mini speakers, or Bluetooth speakers, we always have something that will suit your needs and preferences.
Apart from being stylish and sleek in design, the acrylic counter speaker displays have the following qualities that make them a preferable and advantageous choice:
Top qualities
● Distinct and novel designs, which are bound to give long lasting impressions and visual appeal;
● Fashioned from high-quality acrylic material that is tough and clear. The sturdiness of these materials helps in minimizing breakage;
● The acrylic counter speaker displays are more durable and sturdy than traditional wooden display units;
● The acrylic counter speaker displays are lightweight, but capable of withstanding the weight of different sizes of speakers;
● The acrylic material used in designing and producing these stands allows great versatility in the designing of the units. As such, the units can be made in various fashionable designs and colors.
At POPAI Global, we pride ourselves in offering you speaker displays that can fit into any retail space. The stands are uniquely designed to match any interior décor, and can fit in different retail environments because of their ability to blend in well. If you have a retail environment that is unique, you may place an order for custom-made acrylic counter speaker displays. These are tailor-made units whose design specifications are chosen to suit the needs of your space and speaker type. With such custom-designed speaker stands you can never go wrong.
Stop procrastinating and place an order of acrylic counter speaker displays today so as to increase the visibility and appeal of your speaker merchandise.
POS Retail Counter Speaker Display Solutions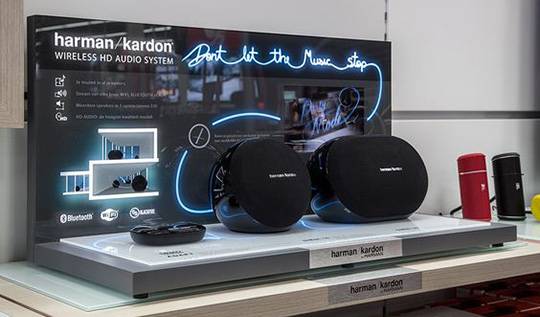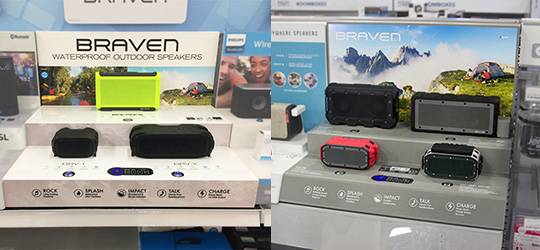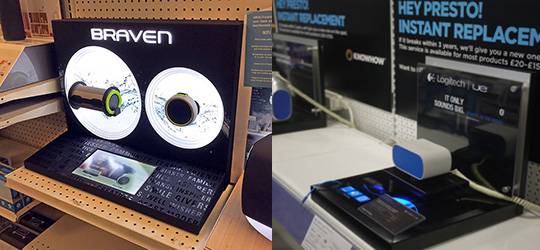 Are you looking for POS Retail Counter Speaker Display Stand for your Business?

---
The images below show some of our recent projects: