Retail Show cards and Standees
Show cards and standees are display units that are commonly used for product promotions, brand campaigns, and events. Typically, these display solutions form the perfect marketing tools for chain pubs, restaurants, movie theaters and retail stores. They are used to promote new menus, special offers and upcoming events.
In a retail setup, show cards and standees can be used for a wide range of promotional purposes, including advertising new season stock, credit offers and loyalty cards. They can also be used to display important info such as hours of business, and terms & conditions. The best part is that you can choose a custom design to enhance your brand's exposure.
Standees
Standees are usually used in cinemas, receptions, theaters and foyers. Made out of corrugated cardboard, these display units come in a sleek, slim design that makes them lightweight and easy to carry out. The most exciting part is that they can be placed anywhere to promote your services or products.
POPAI-Global offers a wide range of standees to meet your preferences and specific requirements. All our standees come in different shapes and sizes. They stand upright, and can be placed anywhere depending on your preferences. We also offer Life-sized cutout floor standees that may come with foldable parts and 3D displays.
Our fabrication process meets the highest manufacturing standards that guarantee the highest quality products. As far as materials are concerned, we use 100% recycled corrugated cardboard that is durable and can withstand harsh elements. Furthermore, all images are printed using color-fade resistant ink to ensure that they remain as glossy as ever.
Standees, show cards and strut cards on a budget
Purchasing products directly from a manufacturer like POPAI-Global is one of the best investment decisions. This is due to the fact that it allows you to discuss with the manufacturer on the exact solutions that you are looking for. We offer custom made standees, show cards, strut cards at budget-friendly prices.
Life Size Standees, Free Standing Advertising Cardboard Standee, Foamboard Life Size Standee, Cardboard Standee Displays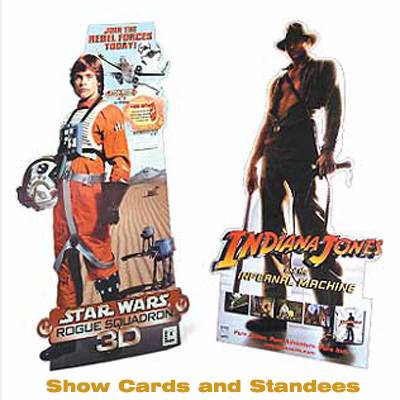 Custom Show Cards and Standees
The benefits of acquiring standees from POPAI-Global
The benefits of acquiring standees from our display specialists include:
● Highly customizable products
● Come in various shapes and sizes
● Consist of high-quality materials for enhanced durability
● Color-fade resistant
● Products are hand-inspected for quality assurance
If you are in the market for retail display units such as show cards, strut cards and standees, do not hesitate to contact POPAI-Global. We manufacture custom-made display solutions that offer good value for money. Contact our retail display specialist today!
Are you looking for Free Standing Advertising Cardboard Standee for your Business?

---
Browse our Show Cards and Standees collection below…