Cardboard Point of Sale Pallet Shippers
If you sell large volumes of products to retailers, you know how hard it can be to transport them. Once they get to the store, displaying them in an aesthetically pleasing way may take a lot of energy and manpower. If not done properly, the store may look cluttered and untidy. The disorganization may hinder customers from accessing what they need. What if there was an easy way to transport and display your large volume goods in the store? Now there is a way. Cardboard point-of-sale pallets are designed both for easy shipping and display, making them a convenient tool both for the product distributors and retailers. The pallets encourage prime retailers to display products.
Cardboard point-of-sale display pallets are good for promoting brand visibility. Customers are able to distinguish between brands easily. This visibility promotes impulse buying and increases sales turnover. Support your retailers today by supplying your products in our unique pallets. Use them to highlight new products, fast moving items and boost your brand.
We specialize in producing cardboard pallets that suit your needs. At your request, we will assemble and install your products to make them are ready for sale immediately they reach the retailer. And since your clients may have different requirements, we also provide customization. Our staffs are well versed with the latest designs in the market. Our expertise ranges from simple corrugated cardboards to complex pallets that have interior compartments and trays. All our cardboard display pallets undergo rigorous quality analysis processes. Rest assured that we will only sell you a quality durable product. We have been in the market for a long time. We know how to get you what you need at your budget.
Environmentally Friendly Displays
Our company prides itself in being eco-friendly. We use cardboard made from easy -to -recycle material. Our suppliers source material from forests that are sustainably managed. These forests are managed with conservation in mind with techniques likes planting and replanting being employed. We recognize that trees are essential for recycling atmospheric gases and therefore prevent climate change. We want you to be part of this eco-friendly movement by supplying only recyclable cardboard pallets.
Take plain to plain spectacular.
From efficient product packouts to product launch spectaculars — pallet displays are a staple in mass and club channels.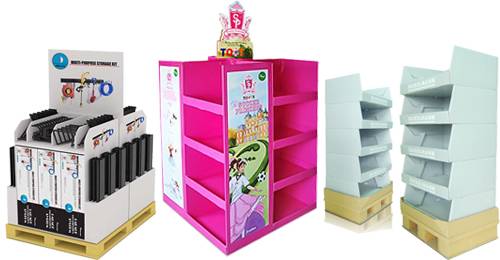 POS Retail Pallet Display Solutions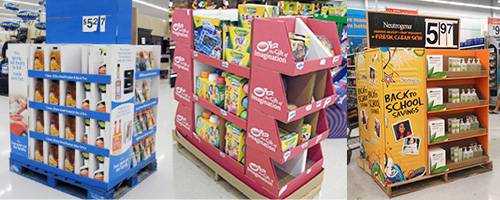 Make an order today!
Would you like to see some of our designs before you make your purchase? Contact us today, and we will send you some of our best designs in photos. We promise to deliver durable, high quality and eco-friendly cardboard point-of-sale pallet shippers.
Are you looking for POS Corrugated Cardboard Pallet Displays for your Business?

---
Browse our Cardboard Pallet Displays collection below…